The Ultimate Adventure Companion
Description
The Zero Breeze MARK 2 portable air conditioner is the ultimate solution for keeping your RV, truck, teardrop trailer, tent, boat, small cottage, or room cool. With a powerful cooling capacity of 650 W / 2,300 BTU, four fan speeds, and three cooling modes, the Mark 2 can lower ambient air temperature by up to 30°F in just 10 minutes. Ideal for use in spaces of 25 to 40 square feet, the Zero Breeze Mark 2 provides maximum cooling comfort in any location.
Take your cooling experience to the next level by adding a rechargeable lithium-ion battery. The cordless design of the Zero Breeze Mark 2 makes it easy to take your cool with you wherever you go. With a 5-hour run duration per battery, you can enjoy extended periods of cool air even on the hottest days. Additionally, the battery features two USB-A and one USB-C ports, making it easy to charge your other electronic devices on the go.
Note that the cooled space and insulation quality can greatly affect battery performance and run duration. Choose the Zero Breeze MARK 2 portable air conditioner for the ultimate in portable, on-the-go cooling comfort.
Note on battery recharging
You'll need an additional power adapter to recharge a battery while your Zero Breeze is in operation (through AC or another battery). The converter you choose should be compatible with how you plan to recharge the battery: AC, 12V/Car, or DIY Adapter cord for 24V recharge sources.
In order to power the Mark 2 AC with one or two Mark 2 batteries in parallel while being able to be charged by the 24v power adapter or 24v solar panels you need to purchase this accessory: 
POWER EXTENSION DOCK FOR MARK 2
Product Details
Fast, efficient, portable cooling
Built-in 24V adaptive frequency micro-compressor
Air temperature up to 

30

° F lower within 10 minutes
Ideal space for cooling is 7 x 7 feet
Smaller than half the size of traditional portable air conditioners
Power with included AC plug
Fast charging battery options
Optional 630Wh battery provides up to 5 hours of power, re-charges in 5 hours
Recharge battery with AC Power Adapter included with Zero Breeze unit
Other re-charge options include the

 

12V / Car Adapter

 or using the 

DIY Adapter

 to connect to a 24V recharge source
Specs
Modes of operation: Cool, Fan (4 levels), Sleep, Super Cold
Cooling capacity: 650W (equivalent to 2,300 BTU)
Unit Size: 20"L x 10"W x 11"H
Air Conditioner Weight: 16.5 lb
Battery Weight: 12 lb
Moisture Protection: IPX4
Climate class rating: T1
Vent Hose Exhaust Configuration: Dual Hose
Sound Level: 52dB(A)
Cooling rated input: 240W
Rated voltage: 24V DC
Power Adapter Specification
Input: 100-240V @ 50-60Hz
Output: 24V DC @ 10A
Size: 7.8"L x 3.5"W x 1.7"H
Weight: 2.3 lbs.
Input Connector: 3-pin
Stand-by power consumption: ≤ 0.5 Watts
Operating Temperature: 32°F - 104°F
Relative Humidity: 5% (32°F)to 90% (104°F)
Battery Charging Power: 150w
Mark 2 Peak Power: 260w
Smart Battery Specification
Battery Type: Lithium Ion
Capacity: 24V 35Ah (630Wh)
Net Weight: 12 lbs.
Unit Size: 20"L x 8.6"W x 2.3"H
Operation Temperature: 32 °F - 140°
DC Charge Input: 18V-36V
Full Charge Time: 5-6 hours (with included

 

power adapter)
DC Jack Output: 12V/5A Max
USB-C: 5V,9V,12V,20V @

 

45W

 

max
USB-A: 5V @

 

2A max
24V Micro Inverter Compressor
ZERO BREEZE clearly defined the chosen objectives of Mark 2 as the core of the air conditioner: small size, lightweight, low power consumption, and DC compressor. Zero Breeze team collaborated with skilled refrigeration engineers, compressor R&D experts, and leading manufacturers to achieve this goal. As you can see, MARK 2's compressor is roughly the size of a cola can, and it weighs less than a quarter of what standard compressors do. It does cost four times as much as a standard compressor, but it is well worth it. Because this is what is shaking up the portable air conditioner industry.
What's In the box
Zero Breeze Mark 2
1 * ZERO BREEZE Mark 2 Air Conditioner
1 * 24V DC Power Adapter for Wall Outlet
1 * Drainage Pipe
3 * Venting Hose
2 * Venting Hose Connection Adapter
1 * IR Remote Controller
1 * ZERO BREEZE Mark 2 User guide
2 * Screws for Connection Adapter of Mark 2
0-2 * ZERO BREEZE Mark 2 battery (depending if you choose the bundle option)
Mark 2 Battery
1 * Smart Battery

1 * Window Slider

1 * Cable For Mark 2 AC

1 * Mark 2 Battery User Guide
Payment & Security
Your payment information is processed securely. We do not store credit card details nor have access to your credit card information.
All orders are shipped free of charge and are not subject to sales tax.

Business days are Monday through Friday. Holidays, Saturday and Sunday are not included in shipping days.
Shipping process: A newly placed order usually takes 48 hours to be processed/shipped and will be delivered to you approximately 1 to 5 business day after an order has shipped, with most packages arriving within 3 business days. For example, an order made on Monday night will be shipped on Wednesday morning and would arrive about 3 business day later.
Our policy lasts 30 days in most case. Some of our brands are offering 60 days, please refer to the product page. If 30 (or 60 in special cases) days have gone by since your purchase, unfortunately, we can't offer you a refund or exchange.
To be eligible for a 100% refund, your item must be in the same condition that you received it. It must also be in the original packaging. 

In the case you used the product and you would like to return it, you will be responsible for the shipping fee and a restocking fee might apply.
In the rare case that a product becomes faulty or a buyer receives a product with defects, buyers are entitled to request for a product replacement within 30 days of receiving the item. To request a replacement, buyers are required to provide photo/video evidence of the product's manufacturing defects via email
The Dual Hose System
The Dual Hose System of the ZERO BREEZE Mark 2 is designed to efficiently draw in fresh, cool air from outside and exhaust hot air through a separate hose. This innovative system ensures maximum output cooling capacity and delivers optimal performance in any environment.
How it works?
Experience Unboxing In the video below
What if I already have...
The ZERO BREEZE Portable Air Conditioner is a game-changer in outdoor cooling solutions. Unlike rooftop air conditioners that only work with a power supply and swamp coolers that only perform well in dry areas, the ZERO BREEZE is specifically designed for off-grid use. Its compact size, low power consumption, user-friendly design, and battery connectivity make it an incredibly portable option that opens up endless possibilities for staying cool in the great outdoors.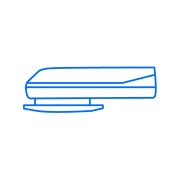 Rooftop Air Conditioner
Rooftop air conditioners provide excellent cooling capabilities but come with a high energy consumption. These air conditioners are not portable and cannot be used outside of a fixed campsite with power supply.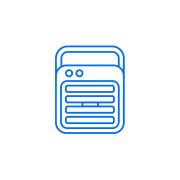 Swamp Cooler
Swamp coolers are a low-power alternative, making them a good choice for dry climates. However, they are not effective in high humidity environments, and they require manual refilling with water.
Window Air Conditioner
Window air conditioners are an affordable option with decent cooling capacity, but they are bulky and difficult to move, install, and power. Additionally, they can obstruct windows and may break easily on bumpy roads.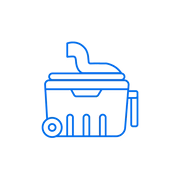 Haul Wheeled Air Cooler
Haul wheeled air coolers are large and cumbersome, and they require constant refilling with ice. They increase the humidity levels in the air, making them a better fit for outdoor use and not suitable for small, enclosed spaces.
FAQ's
Main FAQ can be found below. Full Zero Breeze FAQ list can be found:
HERE
Product Introduction
The ZERO BREEZE Mark 2 air conditioner is a cutting-edge, portable solution for outdoor cooling needs. Designed to be a lightweight and energy-efficient alternative to bulky, power-hungry air conditioners, the Mark 2 is the first truly portable, battery-powered air conditioner on the market. With a cooling power of 2300BTU, the Mark 2 can run for 3 to 5 hours on its battery and uses only one-fifth the power of traditional air conditioners. No generators, water, or ice are required, making it easy to take and use anywhere, whether in a tent, RV, car, boat, small aircraft, or on outdoor adventures. Weighing just 16.5lbs, the ZERO BREEZE Mark 2 air conditioner provides convenient and eco-friendly cooling, no matter where your travels take you.
YES. The ZERO BREEZE Mark 2 air conditioner comes with a comprehensive warranty program to give you peace of mind. With a 30-day money-back guarantee, you can try the Mark 2 risk-free and return it if you are not completely satisfied. Additionally, the Mark 2 is covered by a 1-year warranty that includes free repairs, replacements, and parts replacements. With this warranty, you can be sure that your ZERO BREEZE Mark 2 air conditioner will provide reliable and efficient cooling for years to come. Extra fees may apply. Kindly get in touch with our customer support or read about it in "Refund Policy & Privacy Policy" section.
The box of your ZERO BREEZE Mark 2 order includes the following items:
- ZERO BREEZE Mark 2 Air Conditioner
- 24V DC Power Adapter for wall outlet
- Drainage pipe
- Front air outlet duct
- 2 venting hoses
- Front air outlet duct connection adapter
- Venting hose connection adapter
- IR remote controller
- 2 screws for connection adapter
- ZERO BREEZE Mark 2 user guide
----- OPTIONAL -----
1 or 2 Batteries
All of these components are included to ensure that you have everything you need to get started using your new air conditioner right away.
Explanation of Related Technical Terms
The ZERO BREEZE Mark 2 air conditioner has a BTU (British Thermal Unit) rating of 2300BTU. In terms of air conditioning, the BTU rating indicates the unit's power and cooling capacity, measuring the amount of heat removed from the air per hour. A higher BTU rating means a more powerful air conditioner.
The ZERO BREEZE Mark 2 air conditioner's power consumption depends on several factors including working mode, airflow, humidity, and the temperature of the environment. With an Energy Efficiency Ratio (EER) rating of 9.58, the ZERO BREEZE Mark 2 AC boasts high energy efficiency, making it an efficient choice for your cooling needs.
Here's a breakdown of its power consumption in different modes:
Rocket or Cool Mode: 15-240W (35 hours)
Sleep Mode: 120-150W (57 hours)
Fan Mode: about 20W (42 hours)
When shopping for air conditioners, the EER rating is a crucial factor to consider as it indicates the unit's energy efficiency. A higher EER rating means the air conditioner will consume less energy and provide more cooling power. The ZERO BREEZE Mark 2 AC's EER rating of 9.58 makes it a top pick for consumers looking for an energy-efficient solution.
ZERO BREEZE Mark 2 AC uses R134A refrigerant. This means you won't need ice or water to operate it. According to our engineering data, normal operation should not require any adjustments for at least 4 years. If you encounter any issues with the air conditioner, please don't hesitate to reach out to our customer support team at info@fresh-adventure.com.
The Sound Level of Mark 2 is 52dB (A).
The ZERO BREEZE Mark 2 features a cutting-edge 24V Micro Inverter Compressor as its core component. Unlike conventional home AC compressors, ZERO BREEZE chose to use a compact, lightweight, low power consumption, and DC compressor to provide the best portable air conditioning experience. The company worked closely with professional refrigeration engineers, compressor R&D experts, and leading manufacturers to develop this innovative technology.
The 24V Micro Inverter Compressor is about the same size as a cola can, which is less than a quarter of the size and weight of traditional compressors. Although it costs 4 times more than a conventional compressor, its exceptional performance makes it well worth the investment. This is what sets the ZERO BREEZE Mark 2 apart in the portable air conditioner market.